Our family loves road trips. Around December every year, when the weather is nice, we would go out camping on the deserts up north. We would meet other groups or families there, and have barbeque together over the camp fire. There are also times where we get the venue all to ourselves, giving us a better time to enjoy the views and the environment.
Of course, as with any camping getaways, a road trip is a requisite. Moreover, having a 'toddler' along road trips can be quite a hassle, since they easily get bored and irritated. Don't ruin your getaway with these dilemmas. Keep your kids entertained and happy on the road with these 8 simple road trip activities for toddlers:

Hitting the road for a few hours? Well then, making your toddler fall asleep in your car is the easiest and simplest road trip activity that I can suggest, to begin with. As boring and dull as it may seem, this seems to work the best. Wake them up early in the morning to get their excitement flowing. Let them play and run around the house, gather their own stuff and help you pack your meals. This way, you're draining them off their energy (which is very high) in the morning. Also, put in pillows and blankets on the back seat for a comfortable ride.
Pack their favorite snack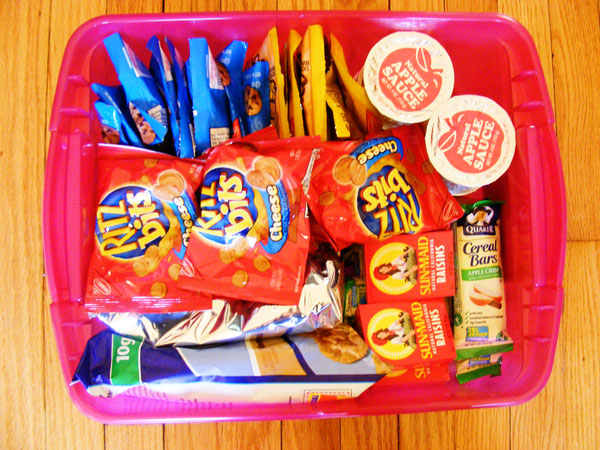 If the kids won't fall asleep on the back seat, keep their favorite snacks in hand. Food items like cookies, snack bars, chips, and cereals (without milk) are amazing since they can be packed in small portions, and won't expire easily and an no road trip activity can be as interesting as munching for a foodie toddler!
Bring their favorite toys
Along with their food, it's good to bring their toys along. Though, try to keep these toys in the car only so the kids can better enjoy the scenery and the environment.
Keep your children entertained throughout the trip by playing games ideal for the road. There are a multitude of games perfect for road trips, but 'number plates' is a personal favorite. Each family member (person behind the wheel excluded!) would look at the passing car's licence plates, in search for 'doubles' or 'triples'. Identical numbers appearing beside each other would be added, and the one who gets the highest score at the end of the trip wins!
The road towards a nature trip is one of the best times to reflect and read. Grab some novels your kids, especially teens, would love to read. Though, it's worth noting that there are contentions if it is indeed safe to read while inside moving vehicles.
Don't forget their game devices
Today's kids are tech buffs. Let them indulge endlessly in the fun filled road trip activity of playing with their games on their portable game consoles like the Nintendo DS or Sony PSPs.
Load up on movies and videos for them to watch

What are your child's favorite shows? Grab a bunch of movies or shows that your children love and load them all up on your child's devices. Your kids can even share the device and watch together if they can agree to watch the same show or time.
Isn't it a good idea to sharpen the kids' IQ while on-the-go? Buy puzzle games your kids can play on a moving car. One of the puzzles I provided my kids with; is 'tic-tac-toe'. They were so amazed since it was their first time playing it. I was actually surprised when I learnt that they had never seen it anywhere before. I never knew a classic game could be buried among all other things being created nowadays.
There are plenty of other stuff moms can do to make road trips fun for the toddlers. Also, each family would find a road trip activity they will love the most, embarking on road trips will be the only way for families to find their favorites and preferences. Let them explore and make memories early on their lives. Empower your children with courage and determination that will show on all of your trips and adventures together with the family.
Joanna is an entrepreneur mum blessed with 3 lovely children. She lives in Dubai with her family, and loves to travel and cook healthy meals for her kids. Joanna regularly shares her parenting tips and experiences with Afterschool.ae, an online platform listing all UAE kids activities accessible by parents thru web and mobile.